For other uses, see Grojband (disambiguation).
Grojband is a 2013 animated series that first aired on June 10, 2013. It was created by Todd Kauffman and Mark Thornton as well as a multitude of others. The show aired on Teletoon in Canada, Cartoon Network and Boomerang in the United States, Pop! in the United Kingdom, ABC ME in Australia, and Cartoon Network in Africa.
Plot
A 13-year-old boy named Corey Riffin starts a garage band with his friends Kin, Kon, and Laney and quickly comes to the realization that his band sucks. It's not their music or ever-changing image that's the problem. It's their lack of good lyrics. Corey and his band are great at everything else that's needed for making a band, but they just couldn't think of any lyrics. This was all until they found Corey's older sister Trina's diary. When they looked in her diary they found that her entries were so profound that they would make perfect lyrics for songs. All they need to do is to toy with her emotions to make her write in her diary about her problems and angst so that they can put her diary entries into lyrics. Follow Corey and his Grojband as they reach for the top and go on wild adventures to try and anger Trina and get lyrics for a new song before they go up on stage and play their next gig. Gasp at the problems they face and the solutions they come up with to get their band noticed so it can become the biggest band in all of Peaceville.
Characters
Main Characters
Recurring Characters
Episodes
Main Article: Episode Guide
Dubs
The show has been dubbed in several languages as is distributed on their respective networks.
French
The French dub aired on Télétoon and was produced by Neptoon Studios.
Portuguese
The Portuguese dub aired on Cartoon Network[1] and was produced by Buggin Media.
Swedish
The Swedish dub was produced by SF Studios[citation needed].
Thai
The Thai dub aired on True Spark[citation needed] and was produced by M.V.D. Company Limited[citation needed].
Trivia
All of the episodes aired in the United States before Canada

Episodes 1-13 aired on Cartoon Network from June 10, 2013, to July 9, 2013. Some episodes also previously aired on Boomerang before airing on Cartoon Network
Episode 14 was released on WATCH Cartoon Network on March 31, 2014
Episodes 15-26 originally aired on Boomerang.

This show went through many names in the original production.[2]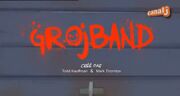 In the French version of the show, the show's signature title is different than the original one. The "O" in "Grojband" is replaced with a spray-painted Grojband skull.
The show's logo is in the Trollslayer font.
It can be implied that at the beginning of the series, the show takes place in the year of 2010 because, in Ahead Of Our Own Tone, they travelled a year into the future and stayed that way until the events of Curse of the Metrognome where the turn of the next year happened. The next episodes were Hear Us Rock Part 1 and Hear Us Rock Part 2 happened. This took place during the Apocalypse which was a strong allusion to the rumors of the apocalypse happening in 2012. Working backwards, we can say that the series was in 2010 until Ahead of our own Tone, and was is 2011 from Ahead of our own Tone to Curse of the Metrognome, and 2012 from Curse of the Metrognome, onwards. See Timeline for further information.
Gallery
References