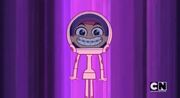 This is a transcript for the episode "Hear Us Rock Part 2".
I do. I win!
You so fail and I so win!
I super-space win forever!
I did it! I won!
Me! I did! Me! I won.
Me. I won.
Lyrics! And we can't even use them.
See what happens when you
challenge the ORBs, kind of a one?
You lose! Told you we'd win, T'ORB!
T'ORB? Where'd T'ORB go?
Trina Riffin!