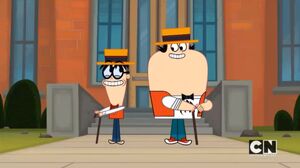 Henceforth is a song sung by Kin and Kon in the episode The Bandidate.
Kon (Speaking): Say Kin.
Kin (Speaking): Yes Kon?
Kon (Speaking): Uh, how do you replace a mayor with someone who isn't a mayor?
Kin (Speaking): Why you'd need some sort of a bylaw for that.
Kon: If the mayor of Peaceville takes an unscheduled vacay
Kin: Then bylaw 62.8 says that is A-Okay.
Kon: To find the winner of every vote held earlier that day
Kin: And name them the new mayor of Peaceville. Henceforth.
Kin/Kon: Henceforth, henceforth.
This song without the lyrics was heard being played on a wax candle record in the episode "War and Peaceville" before it was debuted in The Bandidate.
The outfits Kin and Kon are wearing are the same outfits from Rockersize while singing Yesterday.
This is the second song Corey didn't sing. The first one where he didn't give the vocals was "100 years Ago: Remake". In fact, Corey and Laney didn't perform at all in this song.
Community content is available under
CC-BY-SA
unless otherwise noted.